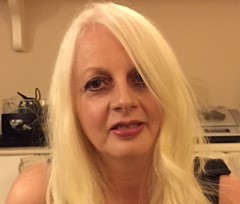 Kerry Zacharia is an artist who expresses her creative vision by using lines, fine brush strokes and patterns and selective colour. The media she uses is ink on paper.  Her inspiration is drawn from the environments which she experiences and from within.
My Profile
Kerry Zacharia is a London born artist with Greek-Cypriot origins. She displayed creative talents at an early age, but for one reason or another her career took on a different path. However, her passion for art long remained and she now has an established following and exhibits her work primarily in London. Kerry is best described as an abstract expressionist artist that is largely inspired by her environment and from within. Her vision is translated with lines, fine brush strokes, patterns and a selective range of colour, painted in ink on paper. The intensity of the art some times enables Kerry to hide mystery images that once seen by the observer is always seen. Furthermore, Kerry chooses to work in ink as she likes its fluidity and transparency but it is unforgiving and this only further adds to the challenge of her work.
She completed her first ink on paper painting in 2006, using red and black ink. At that time she felt a strong sense to express from her depths of pain and expose the layers of vulnerability onto the paper. Her vision flowed out into the lines, patterns and shapes in abstract dimensions, whilst concealing the figure of Kerry herself. Astounded by the outcome, she continued to produce a further six paintings in the red and black theme before launching herself as an artist at the Works on Paper Exhibition, The Brick Lane Gallery, March 2014. This unique 'Red and Black' collection will remain as her 'Private Collection' for the foreseeable future.
Working in themed collections since then is one of Kerry's insightful visions. It gives her the opportunity to explore different dimensions within a structure and to create a diversity in her portfolio. Kerry achieved her first sale, 'Mysterious by the Thames' in April 2014, which was the second painting in her 'Inner City London' collection of six created in 2013. By 2015, Kerry has an established fine collection of art, professionally framed to compliment the quality of the art, glazed with TrueVue Ultraview glass to maintain the clarity of the inks on paper and to protect them.
Kerry was commissioned in 2012 to paint a private garden landscape and would like to do more bespoke paintings in the future. Someone recently commented on this particular painting by saying "It's like Van Gogh from another dimension". It is true that quite often Kerry's art is associated to a likeness of Van Gogh, however, this is not intentional and probably more a need for people to place Kerry's art somewhere.
The feedback Kerry has received since going public with her art has been so great that it has endorsed her style as different and given her a firm basis from which to grow. This can be evidenced by some of the comments she received on social platforms. One comment received at Flux in February 2015 sums up Kerry's style well… "to me your work stands out in a class of its own… your works respond to the urban scene in an expressive graphic style that is highly individual, yet addresses the viewer in a very decisive and engaging way".
Kerry is self-taught and her vision comes from within her and it is not influenced by an art education or any particular art following. Kerry also had a spell working as a freelance digital retoucher/artist in the mid-1990's, again self-taught. However, given the choice she would not go back to creating art in a digital form now that she has found and is committed to her ink on paper style.
For Kerry art is a large part of her heart and soul and as someone recently said to her "part of her DNA".